Back to all posts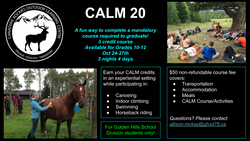 CALM 20 is a mandatory course required to graduate here in Alberta, and what better way to get your credits for this course than with a 4 day trip?!  Join us on a 3 night, 4 day, trip to Canmore packed full of activities such as horseback riding, swimming, indoor climbing, and more! 

This is open to all Golden Hills School Division students in grades 10-12.  This year's trip will take place on October 24-27th.  There is a non-refundable fee of $50 required for registration which goes towards transportation and accommodation costs.  Students need to bring a bagged lunch for day one, but all other meals are provided on the trip.

If you are interested and would like more information please contact allison.mckay@ghsd75.ca.  Registration will be open until the end of the month, but it is first come first served as there are a limited amount of spaces available, so make sure to reach out sooner than later!