Plagiarism Policy
Please review our plagiarism policy, all students are expected to comply with this policy.  Any questions please contact your teacher.
Moodle
Moodle  Log into Moodle to get started in your courses.
Textbooks
Would you prefer to have a physical copy of a textbook or a novel study?  We have a limited number of textbooks and novels available to borrow.  We are happy to mail them to you anywhere in Alberta.  However, you will be responsible to mail them back(or drop them off at the office) to us when you are done with the course.
To request materials please email our librarian Jennifer Young at jennifer.young@ghsd75.ca or call at 403-934-5179 ext 7030
Our mailing address is :
Golden Hills Learning Academy
PO Box 2277
Strathmore, AB
T1P 1K2
Postage is usually between $20-30.
Cooking with Tammy
This video is appropriate for Grades 1+ Students can follow Tammy's instructions to make a tasty treat!
Ingredients Muddy Buddies Recipe
7 cups (243 g) Rice Chex cereal
1 cup (180 g) semisweet chocolate chips
1 cup (129 g) creamy peanut butter
½ teaspoon (1 teaspoon) vanilla extract
Pinch of kosher salt
1½ cups (180 g) powdered sugar
Party Snack Mix
3 cups square corn cereal i.e. Chex or Crispix
3 cups square wheat cereal
3 cups square rice cereal 3 cups Cheetos or similar
3 cups Bugles
2 cups small pretzel twists
2 cups small square cheese crackers
2 cups dry roasted peanuts
1 cup butter
3 Tbsp Worcestershire sauce
1 tablespoon seasoned salt
1 ½ teaspoon garlic powder
1 ½ teaspoon onion powder
1 teaspoon dark chili powder
1 teaspoon smoked paprika
¼ teaspoon ground cumin
few dashed hot sauce (to taste)
Easy Chocolate Bark
1 11-12 ounce bag of white, dark, milk, or semi-sweet chocolate chips (about 2 cups)
1 tablespoon vegetable shortening or vegetable oil
Various toppings such as
Candy canes, M&Ms, chocolate chip cookies and/or Oreos, pretzels, Rolos, peanut butter cups, toffee bits, almonds
Useful links for students
myPass  if you are looking for your transcript go to the Alberta Education myPass site.
Tip sheet  for Chrome Book Keyboard other languages
Kids Help Phone  Need someone to reach out to? Kids Help Phone is a great place to research difficult subjects or to reach out to someone. Call 1-800-668-6868, Text 686868
Digital Museums Canada  Want to visit a museum without leaving your house? Click here to go on a free adventure.
Canadian Museum of History Online Exhibits  Over 20 online exhibits about Canadian history. Including dolls, hockey, moccasins, quilts, etc. 
Canadian War Museum The Canadian War Museum in Ottawa with online games and exhibits.
Scholastic Book Orders  To order online from the scholastic Book orders. Use class code RC201062 and receive free shipping to your house on orders over $40.
GHLA Reading Challenge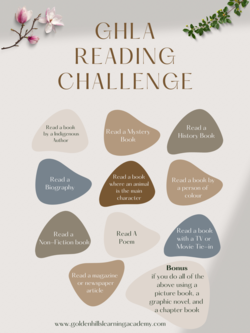 Announcing GHLA's reading challenge.
This year's reading challenge is all set up at ready to go.
Print out the sheet and put a sticker over the ones you complete.  1 a month will get you to the end of the school year.  
List of challenges 
Read a book by an indigenous author
Read a mystery book
Read a historical book
Read a biography
Read a book where an animal is the main character
Read a book by a person of colour
Read a non-fiction book
Read a poem
Read a book with a TV or movie Tie-In
Read a magazine or newspaper article
Bonus if you do all of the above using a picture book, graphic novel, and a chapter book
If you are looking for a list of recommendations  This is a live list I will keep updated as the year goes on.  Feel free to send me suggestions about what good books you have read!!
Sora Reading App
The Sora app is available on iTunes and Google play. It can be used on virtually any device.  It allows students to read and listen to hundreds of different books and magazines. 
Using your GHSD credentials
firstname.lastname@ghsd75.ca
Password
You can log in and select Golden Hills Learning Academy as your home library. If you have any problems please contact our librarian Jennifer Young at jennifer.young@ghsd75.ca  
School Fees
To pay for school items, extra curricular activities, lost textbooks etc.