Back to all posts
Posted on
Winter Dual Credit Classes with Olds College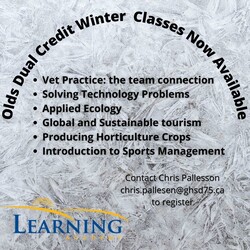 As listed these 6 classes will be offered in Winter Semester.  To Register contact Chris Palleson chris.pallesen@ghsd75.ca
AHT 1140
Veterinary Practice:
The Team Connection
Students will become familiar with the aspects of the service cycle within a
veterinary clinic. Students will explore veterinary software and their specific
application to operating a veterinary practice. They will apply communication
skills to create positive experiences for veterinary clients.
No additional
materials
required.
Animal Health
Technology
Diploma
PSI 3224
5 Credits
ATG 1008
Solving Technology
Problems
Students will engage in the problem-solving process using current hardware
and software tools for applied data-driven problem solving. Through data
analysis, algorithmic problem solving, and technical memo writing students
will work to solve a technical agricultural issue.
Free software
download and a
USB memory
stick.
Precision
Agriculture
Techgronomy
Diploma
PSI 3226
5 Credits
EVS 1210
Applied Ecology
This course provides an introduction to ecological principles at the species,
population, community and ecosystem levels. Specific application of ecology
to sustainability and the management of forest and grassland ecosystems are
studied.
No additional
materials
required.
Land & Water
Resources Diploma
PSI 3227
5 Credits
HAT 1255
Global and
Sustainable Tourism
Students will gain an understanding of the psychology of travel, tourism
sectors, the role of key industry players, and contemporary issues in eco-
tourism, sustainability and business operations of various tourism
organizations. Students will also experience and evaluate various tourism
facilities, with a focus on the analysis of the services and operations from a
guest perspective.
No additional
materials
required.
Hospitality &
Tourism
Management
Diploma
PSI 3023
5 Credits
HRT 1700
Producing
Horticulture Crops
Learners research and assess food and ornamental field crop production
markets, locations, materials, and processes to achieve a sustainable
enterprise.
Materials List
provided further
below.
Horticulture
Technologist
Diploma
PSI 3213
5 Credits
SPM 1260
Introduction to
Sports Management
Students will analyze various management models and organizational
structures within the sport and recreation industry. Content areas include
professional, amateur, Olympic, and intercollegiate sports.
No additional
materials
required.
Business
Management
Diploma
-Sports
Management Major
PSI 3249
5 Credits