Back to all posts
Posted on
Summer School Registration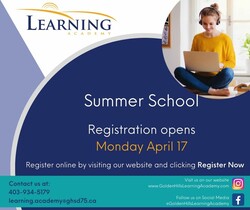 LEARNING ACADEMY SUMMER SCHOOL 2023
Summer School Dates - July 4 - 28
Final Exams - August 1-4   Diploma Exams - August 1-10
Non-Refundable Summer Enhancement Fee - $100.00 (paid once registration is approved)
Summer School will fill up quickly. DO NOT WAIT UNTIL THE LAST MINUTE TO REGISTER!
Registration opens on April 17 and closes on June 15. Course availability is EXTREMELY LIMITED and we may need to close registration early due to higher-than-normal demand.
Most students do not receive a final mark in Term 2 until the end of June. By then it will be too late to register. If you think you may need a summer course do not wait, REGISTER NOW! First priority will be given to students needing a course to graduate or move on to the next grade level.
REGISTER NOW BY TAKING THE FOLLOWING STEPS
Call us to ask about summer school availability or click on REGISTER NOW below to complete the online registration.
If you are not accepted immediately, you will be placed on a waitlist and accepted based on need and availability.
When you have been accepted, you will receive an email and be prompted to e-transfer your fees. DO NOT SEND PAYMENT BEFORE YOU RECEIVE CONFIRMATION THAT YOUR REGISTRATION HAS BEEN APPROVED.
Begin your course no later than July 4. 
IMPORTANT SUMMER SCHOOL INFORMATION AND DATES
Summer school courses will be offered online only through the Learning Academy's Moodle platform. GHLA will be offering both core academic and option courses at the 10, 20, and 30 levels. A list of available courses for summer 2023 is available.
Please note that summer school programming is extremely condensed. All coursework needs to be completed in July (July 4 - 28) and courses will not be extended into the fall. This intensive setting requires that students be able to independently manage their own course loads.
Students may register for a maximum of one course for summer school at the Learning Academy unless special permission is granted for students needing more to graduate.  You cannot be registered for the same course at another summer school. This will be verified before you are given access to our course.
Once students are accepted and given access to Moodle they can begin working on the course right away, but students may not have work marked or feedback from a teacher until the beginning of July.
OUR RECOMMENDATIONS FOR COURSE SELECTION
1 - Carefully consider your time commitment. Will you be working? Core subjects should take 125 hours, which means 4 + hours per day throughout July.
2 - Consider talking to your school counselor or principal about your plan to take a summer school course as this may alter the plan they have created for you for the upcoming school year. 
SUMMER COURSES RECOMMENDED  - English (all levels), Social (all levels), Biology 20 and 30, CALM 20, Phys Ed 10, 20 & 30, Art 10, 20 & 30, Forensic Sciences, French or Spanish, General, Personal or Abnormal Psychology, CTS options. Also course retakes or credit recovery.
SUMMER COURSES NOT RECOMMENDED  - Math and some sciences that are being taken for the first time - Math 10C, Math 20-1, 20-2, 30-1, 30-2, Chemistry 20 and 30, Physics 20 and 30, Science 10.